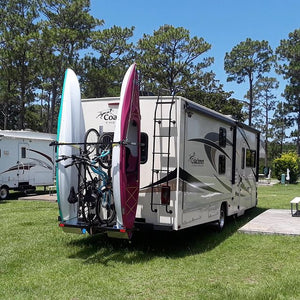 MOTORHOMES! Kayak Anywhere
CYBER MONDAY SALE until 12/10/23 "Why Leave Fun Behind?" tm At Checkout you get $350.00 Off this STYLE rack purchase . Made in the USA to carry your cargo and fit your RV! Bring all of the Toys with you on your RV! Rush shipments are now available! Call us at 518-791-1121 
*YAKUPS® "The Original VERTICAL Patented RV Kayak Rack"tm Custom made in the USA ! FIVE YEAR WARRANTY included.* ALL STAINLESS STEEL WATERCRAFT GUARDS THAT PROTECT CARGO * PATENTED SOLID NO WOBBLE STURDY FRAME WITH SOLID HITCH CLAMP *LOCKING CROSS SWING BAR TO PROTECT VALUABLE CARGO FROM THEFT OR LOSS. *OPTIONAL BIKE RACK CAN CARRY ELECTRIC BIKES. *FITS KAYAKS - PADDLE BOARDS - SURFBOARDS & BIKES! *CUSTOMIZED RACKS FOR YOUR RV AND CARGO *FITS CAPABLE HEAVY DUTY 2" FRAME MOUNTED HITCHES *SHIPS TO CANADA & OTHER COUNTRIES Order now online!  We ship Factory Direct to you.. Yakups® brand heavy duty racks are Patented.  "Why Leave Fun Behind?""™ Standard shipping is currently 1- 2 weeks.. Faster shipping available  Call our friendly customer service 518-791-1121
https://www.facebook.com/pg/rvkayakracks/reviews
https://www.instagram.com/rvkayakracks/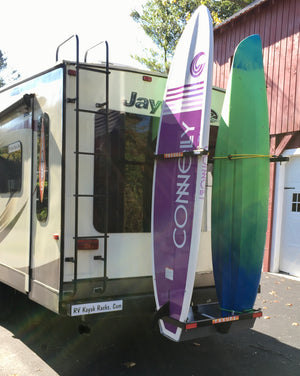 New Model E2KR37W Sale Price $999 + ship * Kayaks, Paddleboard, & Surfboards
Yakups® brand Quality Racks are "The Original Patented RV Kayak Racks"tm and made in the USA since 2013!
* Built to last a lifetime. 5 year warranty included.
* Solid Yakups® frame construction that has No flex or loose connections. Solid 2" main frame shaft.    Stronger 3/16" wall vertical post that will not flex Your Safety is our #1 concern..  Our racks are built to withstand Highway stresses. Structural Review study completed by RIT in 2014. 
* All stainless hardware including the patented watercraft guards that prevent damage to your valuable cargo. Fits 2" frame mounted hitches. Anti wobble clamping block included along with Padlocks, straps, 5 year warranty and instructions.  
 * Correctly Designed patented racks that load watercraft so they cut into the wind.  Other multi use custom rack models are available that carry bikes and kayaks. 
This new model E2KR37W fits standard kayaks, paddle boards, and surfboards. Yakups® You get a durable rack that will last a lifetime. This model does not offer customization or special changes.
While we are providing you a solid heavy duty rack it has a five year warranty, all stainless steel hardware, at an affordable cost. Includes all straps , cables and Padlocks. $999.00 plus $229.00 shipping This model ships right out by UPS ground..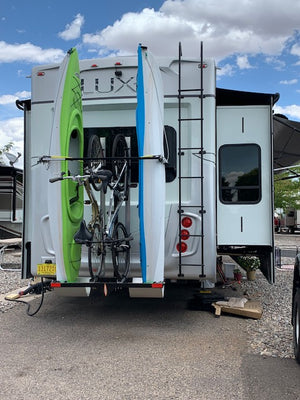 Fifth Wheels
CYBER MONDAY SALE until 12/10/23 At Checkout you get $350.00 Off this rack purchase.
"Why Leave Fun Behind?" tm The perfect fit on your RV!
Don't leave your Fun Toys at home.
"Why Leave Fun Behind?" tm
Rush shipments are now available! ORDER NOW!  Why Leave Fun Behind?"™ Standard shipping is currently est 1 week. Call us 518-791-1121 for a rush service. All major Credit cards or PAYPAL financing.
 Yakups® brand heavy duty racks are made in the USA for Fifth Wheels with 2"heavy duty receivers can carry Kayaks, Bikes, and paddleboards!  Add options if needed to the rack so you will be able  to have a larger RV lifestyle. Visit Fifth wheel Magazine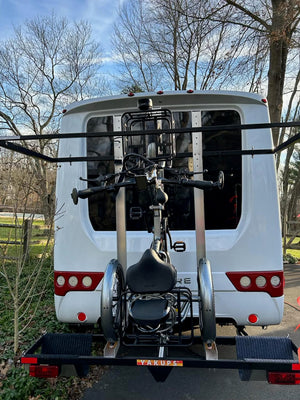 Easy to Install
TRIKE RACKS
Custom built racks to do what you need. This is a Trike rack / regular bikes/ kayak rack. We can build just Trike racks that can carry two trikes or other things depending on the space..
"Why Leave Fun Behind?" tm
CUSTOMIZED RACKS Why Leave Fun Behind?"™ Standard shipping is currently 1 week.. Call us 518-791-1121
Yakups®  great looking racks are made in the USA & finished with stainless hardware. Simple to install right out of the box. Each order arrives fully assembled in three easy to bolt together sections. The solid one piece designed rack slides into a 2" hitch receiver and locks tightly to hitch with clamping block for a NO Wobble connection. YAKUPS® patented brand racks carry kayaks, wind/surfboards, paddleboards,  bikes, and SUP's.